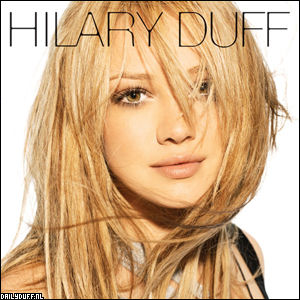 FOTO'S / TOUR
Op 29 september 2004 verschijnt Hilary's derde studio album 'Hilary Duff'. Tussen mei en augustus 2004 waren de opnames voor het album. Met de nummers wilde Hilary een meer volwassen kant van zichzelf laten zien. Het album werd uitgegeven door Hollywood Records.
Audio en Songteksten:

1. Fly
2. Do You Want Me?
3. Weird
4. Hide Away
5. Mr. James Dean
6. Underneath This Smile
7. Dangerous To Know
8. Who's That Girl?
9. Shine
10. I Am
11. The Getaway
12. Cry
13. Haters
14. Rock This World
15. Someone's Watching Over Me
16. Jericho
17. The Last Song

BONUS TRACK
18. My Generation
ASIAN EDITION
18. Who's That Girl? (acoustic)
JAPANESE EDITION
18. Who's That Girl? (acoustic)
19. Our Lips Are Sealed
20. My Generation
Weetjes:
– Het album behaalde #19 in de Nederlandse mega charts.
– Van het album heeft tot nu toe 1,800,000 exemplaren verkocht in Amerika, in de eerste week werden er 192.000 verkocht en stond het op #2 in de album charts
– Het behaalde de #1 positie in de Canadese hitlijsten
– Het album kreeg over het algemeen negatieve reviews, en werd vooral vergeleken met de albums van Avril Lavigne en Ashlee Simpson.
– De eerste die opnames vonden plaats tussen de opnames van Hilary's film's 'Raise Your Voice' en 'The Perfect Man',
– Hilary's management wilde dat het nummer "Since U Been Gone" opnam voor het album, enkele noten zouden echter te hoog zijn voor Hilary's stem waardoor hiervan afgezien werd. Het nummer werd uiteindelijk opgenomen door Kelly Clarkson.
– Hilary zingt het nummer Someone's Watching Over Me ook in de film 'Raise Your Voice' uit 2004 in de rol van Teresa 'Terri' Fletcher.
Tour
Om het album te promoten ging Hilary op tour onder de naam 'Most Wanted Tour', bijna elk concert wat uitverkocht. De tour liep van 20 juli 2004 in Amerika en eindidigde hier ook in januari 2005. tussendoor bezocht ze o.a. Canada, Japan, Spanje en Australië.
♫ 20 Juli 2004 – Worcester, VS
♫ 21 Juli 2004 – Philadelphia, VS
♫ 22 Juli 2004 – Fairfax, VS
♫ 24 Juli 2004 – Hershey, VS
♫ 25 Juli 2004 – East Rutherford, VS
♫ 26 Juli 2004 – Uniondale, VS
♫ 27 Juli 2004 – Pittsburgh, VS
♫ 29 Juli 2004 – Auburn Hills, VS
♫ 30 Juli 2004 – Rosemont, VS
♫ 31 Juli 2004 – Milwaukee, VS
♫ 1 Augustus 2004 – Minneapolis, VS
♫ 3 Augustus 2004 – St. Charles, VS
♫ 4 Augustus 2004 – Indianapolis, VS
♫ 5 Augustus 2004 – Nashville, VS
♫ 7 Augustus 2004 – Charlotte, VS
♫ 8 Augustus 2004 – Duluth, VS
♫ 9 Augustus 2004 – Greenville, VS
♫ 11 Augustus 2004 – Jacksonville, VS
♫ 12 Augustus 2004 – Tampa, VS
♫ 13 Augustus 2004 – Sunrise, VS
♫ 15 Augustus 2004 – New Orleans, VS
♫ 18 Augustus 2004 – Austin, VS
♫ 19 Augustus 2004 – Grand Prairie, VS
♫ 20 Augustus 2004 – Lubbock, VS
♫ 21 Augustus 2004 – Norman, VS
♫ 22 Augustus 2004 – Valley Center, VS
♫ 25 Augustus 2004 – Salt Lake City, VS
♫ 26 Augustus 2004 – Nampa, VS
♫ 31 Augustus 2004 – Oakland, VS
♫ 1 September 2004 – Fresno, VS
♫ 2 September 2004 – Anaheim, VS
♫ 3 September 2004 – Las Vegas, VS
♫ 5 September 2004 – Phoenix, VS
♫ 8 September 2004 – Portland, VS
♫ 9 September 2004 – Seattle, VS
♫ 10 September 2004 – Vancouver, Canada
♫ 12 September 2004 – Calgary, Canada
♫ 13 September 2004 – Leganés, Spanje
♫ 14 September 2004 – Barcelona, Spanje
♫ 18 oktober 2004 – Osaka, Japan
♫ 20 oktober 2004 – Tokyo, Japan
♫ 21 Oktober 2004 – Tokyo, Japan
♫ 27 Oktober 2004 – Melbourne, Australië
♫ 28 Oktober 2004 – Sydney, Australië
♫ 30 October 2004 – Honolulu, VS
♫ 1 December 2004 – Salt Lake City, VS
♫ 4 December 2004 – Sacramento, VS
♫ 5 December 2004 – Tacoma, VS
♫ 8 December 2004 – Trenton, VS
♫ 10 December 2004 – New York City, VS
♫ 12 December 2004 – Sunrise, VS
♫ 4 Januari 2005 – Kelowna, Canada
♫ 6 Januari 2005 – Calgary, Canada
♫ 7 Januari 2005 – Edmonton, Canada
♫ 8 Januari 2005 – Saskatoon, Canada
♫ 10 Januari 2005 – Winnipeg, Canada
♫ 13 Januari 2005 – Kitchener, Canada
♫ 14 Januari 2005 – Toronto, Canada
♫ 15 Januari 2005 – Ottawa, Canada
♫ 16 Januari 2005 – Montreal, Canada
♫ 18 Januari 2005 – Washington, VS
♫ 19 Januari 2005 – Ottawa, Canada
♫ 20 Januari 2005 – Toronto, Canada
♫ 21 Januari 2005 – Hamilton, Canada
♫ 22 Januari 2005 – Rochester, VS
♫ 24 Januari 2005 – Albany, VS
♫ 25 Januari 2005 – Bridgeport, VS
♫ 27 Januari 2005 – Manchester, VS
♫ 28 Januari 2005 – Atlantic City, VS
♫ 29 Januari 2005 – Wilkes-Barre, VS